TAYLORMADE "BMW PGA Championship Ticket Giveaway" CONTEST
OFFICIAL RULES - TAYLORMADE "BMW PGA Championship Ticket Giveaway" CONTEST
NO PURCHASE OR PAYMENT OF ANY KIND IS NECESSARY TO ENTER OR WIN. THIS CONTEST IS INTENDED FOR PLAY IN THE UNITED KINGDOM ONLY AND WILL BE GOVERNED BY ENGLISH LAW. DO NOT ENTER IF YOU ARE NOT ELIGIBLE OR YOU ARE NOT LOCATED IN THE UNITED KINGDOM AT TIME OF ENTRY. VOID WHERE PROHIBITED OR RESTRICTED BY LAW.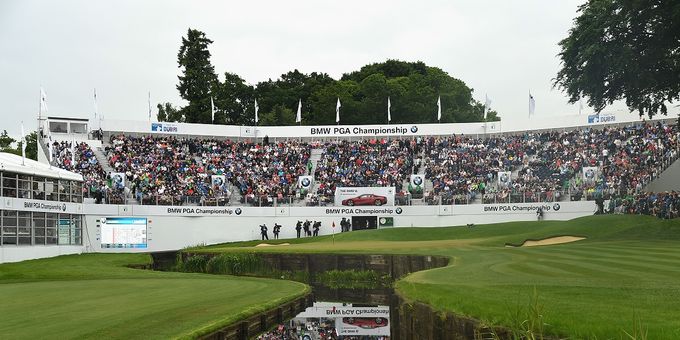 1. General. The TaylorMade "BMW PGA Championship Ticket Giveaway" Contest (the "Contest") is sponsored by Taylor Made Golf Limited (company number 1424575) of Taylormade Court, Jays Close, Viables Business Park, Basingstoke, Hampshire RG22 4BS ("Sponsor"). The Contest is subject to these Official Rules and to all applicable laws. This Contest is not sponsored, endorsed or administered by, or associated with, Facebook, Instagram or Twitter or any other social media platform, or BMW or Wentworth Golf Club.
2. Eligibility. This Contest is open to legal residents of the United Kingdom who are 18 or older and who have a non-private Instagram account and follow @taylormade_tour. Employees of Sponsor, its affiliates, parent company, subsidiaries, prize providers and advertising and promotion agencies (the "Contest Entities"), together with the immediate families (spouses, parents, siblings, and children) and those persons living in the same household as such employees (whether or not related), are not eligible to enter or win.
3. How to Enter. The Contest consists of a one off contest, and begins on 14th May 2018 when Sponsor makes an initial Contest post on its Instagram feed using the hashtag #TaylorMadeContest (the "Entry Hashtag"). Any follower who "likes" the sponsor's post (a "Submission") at any time after the initial contest post until 11:59:59 p.m. PT on 18th May 2018 (the "Contest Period"). Submissions must comply with the requirements set out in Section 6 of these Official Rules. All Submissions, if eligible, made during the Contest Period will be counted for the Contest and logged onto a spreadsheet and a winner picked at random by the Sponsor as detailed below.
In the event of a dispute over the identity of an entrant, the authorized account holder of the email address or Facebook account used to set up the Instagram account will be deemed to be the entrant. The authorized account holder of an email address shall mean the natural person assigned to such account by the Internet access provider, online service provider, or other organization responsible for assigning email addresses for the domain associated with such account. The authorized account holder of a Facebook account is the natural person reflected in Facebook's records as registering the account. The potential winner may be required to provide identification sufficient to show that he/she was the authorized account holder of such email address or Facebook account and was the person with the Instagram account who posted the Submission.
Only one Submission per person shall be permitted and entered into the random draw. Automated and/or repetitive electronic submission of entries (including but not limited to entries made using any script, macro, bot or sweepstakes service) or submissions not in accordance with these official rules will be disqualified and transmissions from these or related email or IP addresses may be blocked. All entries must be received and recorded during the Contest Period to be eligible.
4. Winner Selection. From all eligible Submissions received during the Contest Period two separate prize winners will be selected at random and announced on Sponsor's Instagram on the 21st May 2018, and will also be notified by direct message on Instagram, with instructions to contact Sponsor to arrange for prize delivery. In order to receive a prize, each apparent winner, must contact the sponsor to accept the prize within 24 hours of notification and if requested, must sign and return to Sponsor an affidavit of eligibility, liability release, and unless prohibited by law, publicity release. If the apparent winner fails to accept the prize within the time period they shall be deemed to have waived the prize and in the sponsors absolute discretion it may either select another winner by random (in which case notification and acceptance as mentioned above shall apply) of may forfeit the prize.
5. Prizes. Each winner shall receive 2 tickets to attend the 2018 BMW PGA Championship to be held at Wentworth Club Wentworth Dr, Virginia Water GU25 4LS on [22nd May 2018]
The ticket will allow the winner and a friend to attend and watch the championship on the day allocated by the ticket. The winner may give the ticket to whomever they so wish. Those persons using the ticket must comply in all respects with Wentworth's and the PGA's spectator's rules and dress code for the Championship. The Prize does not include travel to or from Wentworth nor parking at the event. The Prize does not include any refreshments while at the event or any accommodation at the event or nearby or otherwise.
If the Winner cannot or does not attend the Event on the day sated in the ticket no refund will be provided.
6. Submission Guidelines. Your Submission must be a simple "like" of the Initial sponsor's contest post on Instagram with no other comment or remark.
A Submission must not be derogatory, offensive, threatening, defamatory, disparaging, libellous or contain any content that is inappropriate, indecent, sexual, profane, tortious, slanderous, in violation of any applicable law, discriminatory in any way, or that promotes hatred, harm or discrimination against any group or person, or otherwise does not comply with the spirit and theme of the Contest, as determined by Sponsor and/or Sponsor's representative in its sole discretion.
Without limiting the foregoing, a Submission must not disparage the Sponsor, or any competitor of Sponsor, or any other Contest Entity. A Submission must not contain content, material or any element that is unlawful, or otherwise in violation of or contrary to applicable laws or regulations.
By making a Submission, you agree that the Sponsor may use your name and details as well as other photos, videos, audio, or other depictions of winner, in all means and media now known or hereafter devised for any and all purposes, including, without limitation, advertising, promotional, marketing, publicity or commercial purposes. Entrant shall have no right to review or approve edits, alterations or modifications.
7. General.
Prizes are non-transferable; no substitutions or exchanges by winner permitted. Sponsor reserves the right, in its sole discretion, to substitute one or more elements of a prize for a prize of equal or greater value. Prizes may not be redeemed for cash value. If the Winner cannot or does not attend the Event on the day sated in the ticket no refund will be provided.
Sponsor has not made and is not responsible for, and hereby disclaims (to the greatest extent permitted by law), any representation, warranty or guarantee, express or implied, in fact or in law, relative to the prize.
By participating in the Contest, each entrant agrees for entrant and for entrant's heirs, executors, and administrators to release and indemnify and hold the Contest Entities and their respective officers, directors, employees and representatives harmless from any and all losses, damages, rights, claims, and actions of any kind arising from the Entrant's breach of these official rules in connection with the Contest. By participating in this Contest, each entrant agrees to abide by and be bound by these Official Rules. The Entrant hereby agrees that all actions of the Sponsor and/or Sponsor's representative and whose decisions shall be binding and final on all matters related to this Contest.
Nothing in these Official Rules has the effect or is intended to limit or exclude an Entrant's statutory rights as a consumer.
By accepting any prize, winner grants to Sponsor the right to use his/her name, likeness, hometown and biographical information, for any lawful purpose (including but not limited to advertising and promotion), in perpetuity, in any media now known or hereafter developed, without further permission or compensation, except where prohibited by law.
Sponsor assumes no responsibility or liability (to the greatest extent permitted by law) for (a) any incorrect or inaccurate registration or entry information, or for any faulty, failed, garbled or jumbled electronic data transmissions; (b) any unauthorized access to, or theft, destruction or alteration of entries at any point in the operation of this Contest; (c) any technical malfunction, failure, error, omission, interruption, deletion, defect, delay in operation or communications line failure, regardless of cause, with regard to any equipment, systems, networks, lines, satellites, servers, computers or providers utilized in any aspect of the operation of the Contest; (d) inaccessibility or unavailability of the internet; or (e) any injury or damage to participant's or to any other person's computer or mobile device which may be related to or result from any attempt to participate in the Contest; or (f) any cancellation of the Event or disruption to the Event which is the subject matter of the Prize or the winner's inability to attend the event for whatever reason; unless any such matter is directly and wholly caused by the Sponsor's negligence.
Sponsor reserves the right, in its sole discretion, to modify, cancel or suspend this Contest (or any portion of the Contest) should any cause or problem corrupt or inhibit the administration, fairness, security or proper operation of the Contest and, in such situation, to select the winners in such manner as deemed fair and appropriate by Sponsor. If, in the Sponsor's opinion, there is any suspected or actual evidence of tampering with any portion of the Contest, or if technical difficulties compromise the integrity of the Contest, Sponsor reserves the right to void suspect entries and/or terminate the Contest (or any portion of the Contest) and select a winner using all known eligible non-suspect entries received as of the date of termination. Sponsor may prohibit entrant from participating in the Contest or winning a prize if it determines entrant is attempting to undermine the legitimate operation of the Contest by cheating, deception, or other unfair practices or intending to annoy, abuse, threaten or harass any other entrant or Sponsor's representatives. Any attempt by an entrant to deliberately undermine the legitimate operation of the Contest is a violation of these official rules and should such an attempt be made, Sponsor reserves the right to seek damages from any such entrant to the fullest extent permitted by law. Sponsor is not responsible for typographic or printer's errors. .
8. WAIVER. BY PARTICIPATING IN THIS CONTEST, ENTRANTS AGREE, TO THE FULLEST EXTENT PERMITTED BY LAW, THAT (1) ANY AND ALL DISPUTES, CLAIMS, AND CAUSES OF ACTION ARISING OUT OF OR CONNECTED WITH THE CONTEST, OR ANY PRIZES OR OFFERS AWARDED, SHALL BE RESOLVED INDIVIDUALLY, WITHOUT RESORT TO ANY FORM OF CLASS ACTION; (2) ANY AND ALL CLAIMS, JUDGMENTS AND AWARDS SHALL BE LIMITED TO ACTUAL OUT-OF-POCKET COSTS INCURRED, INCLUDING COSTS ASSOCIATED WITH ENTERING THE CONTEST.
9. Governing Law. This contest shall be governed by the laws of England and wales, without regard to its conflict of laws rules. Venue for any actions hereunder shall be in the English courts.
10. Use of Information. Personally identifiable information that is submitted by entrants as part of this Contest will be used to administer the Contest, select the prize winner and fulfil the prize, and will be subject to Sponsor's privacy policy at http://taylormadegolf.co.uk/shared-customer-service-customer-legal/privacy.html#privacy. If you are selected as a winner, your information may also be included in a publicly available winner's list and used in marketing material as indicated in these rules.
11. Winner's List. The names of the winners will be posted on Sponsor's Instagram feed.