WITB for Rory McIlroy at the Omega European Masters
There aren't enough words to describe the surroundings of Crans-sur-Sierre Golf Club, but one thing that you will hear on repeat is "This is my favourite spot on tour".
'It looks impressive whilst watching it on the TV, but when you see it in person, it's outstanding'

- Adrian Rietveld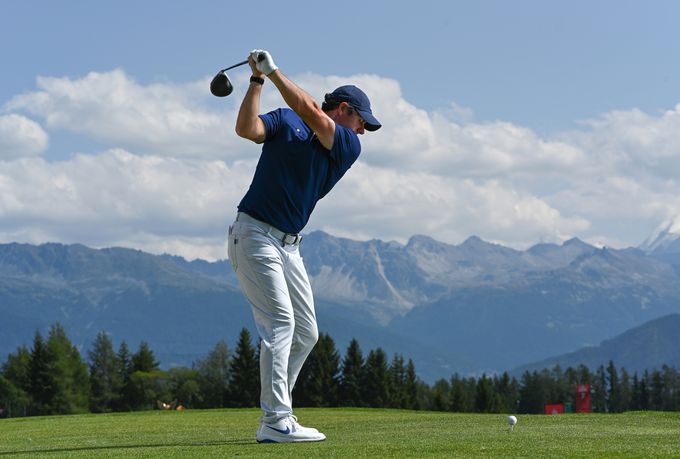 As players navigate around the unforgettable 6,247-yard course, it offers breath-taking views of the Pleine Morte Galcier and is indisputably the most spectacular golf course on the European Tour - however don't let looks deceive you.
This natural environment is 5,000ft above sea level, which means players must adapt to the high altitude and how this effects one of the most important pieces of their equipment – their golf ball.
As there is less resistance in the air, golf balls are travelling further with less spin, but players will also have to take into consideration the time of the day. There's a chill in the air in the morning and evenings which means golf balls travel slightly shorter and with temperatures reaching 30°+ during the day, the golf ball will travel further!
"Rory is a mid-spinner with his woods and irons and wedges a little higher than average which is great in these conditions"

– Adrian Rietveld
You only have to turn the clock back to Sunday when Rory McIlroy took home his third PGA Tour win of the season and was crowned FedEx Cup champion for the second time to see why Rory is a firm favourite this week. Rory's enjoying one of the best ball-striking spells of his career and got straight to work with our tour team to get dialled in.
Rory hit the range mid-morning to work out how far he could hit his TP5 with each club in his bag and was hitting 6-8% longer in his mid-long irons and 3-5% with short irons. Knowing that the difference in temperature can alter his yardages, Rory used his early start in the Pro-Am to compare his numbers and found that his short irons were in line with his normal yardage, but his mid-long irons were 5% longer.
Speaking to Adrian he said that "Coming off such a high, he [Rory] looks really keen to press on. He's in great form and while we were working with him on the range he took the driver out and hit 5 drives. His shortest carry, 337 and longest 348, that's carry numbers! He made a joke and said, 'might as well hit a few drivers on the range, can't see myself hitting many out on the course'. He's got a 5-wood which is versatile and an M6 3-wood which he can hit off the tee 315 carry, he's got more than sufficient power to play the golf course. Look out for him this week, it's exciting times for Rory."
RORY MCILROY WITB:
*Rory found at East Lake that he was spinning his Milled Grind wedges a little bit too much and needed to get the launch down by altering the loft, he now has the trajectory he wants.
Inspired by Switzerland's iconic mountains and luxury watches, have you seen #TeamTaylorMade's limited edition Spider X headcovers? Make sure you look out for them this week on the European Tour!