The Open Championship: It's a Scottish Look & Feel.
This year, the battle to be named the Champion Golfer of the Year returns to Scotland—the birthplace of golf—for The Open Championship. Hosted at Carnoustie Golf Links for the 8th time, the best players in the world will face the challenge of links golf in a truly historic setting.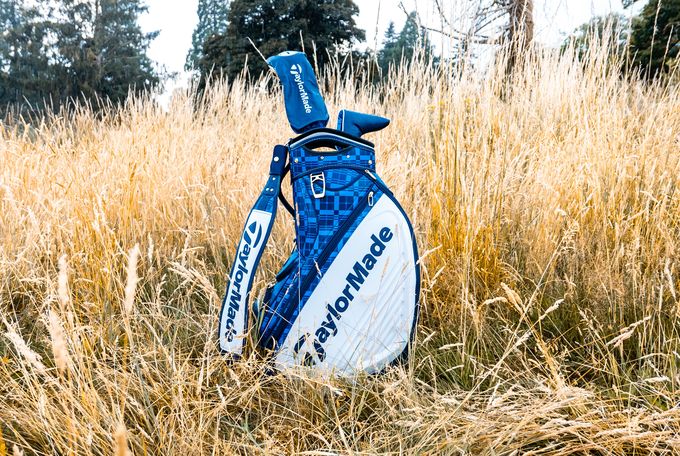 Earlier this year, we designed custom staff bags for our athletes that commemorated the location, heritage, and spirit of the year's first two majors. For The Open Championship, our a design teams have created another special-edition staff bag that taps into the legacy of the third major championship, complete with iconic patterns, premium materials, and an unexpected surprise.
For the 2018 Open Championship at Carnoustie, our Major Edition staff bag takes on a uniquely Scottish look and feel. Our Staff Bag features a stylistic plaid pattern, incorporating blue and white hues inspired by the Scottish flag.
"The plaid pattern itself comes from what the Scots call a family tartan—it's like a coat of arms. This is the family tartan of Allan Robertson, the course designer of Carnoustie. We took the Robertson family tartan pattern, and infused the Scottish flag colors to give our design its own identity."

— Dennis Kennedy, TaylorMade Graphic Designer
Looking inside the bag, you'll find a unique and unexpected design element—the pockets have been lined with "fighting unicorn" symbols, a competitive take on Scotland's national animal. Like the hotdog lining of our U.S. Open staff bag, the unicorn lining provides a fun reveal once you open the bag while also paying tribute to the spirit of The Open Championship's host country.
"We wanted to include a nice surprise when you open up this bag as well—something that brings out a more playful element to the design. Fortunately for us, we had some great iconography to play with since the Scottish national animal is a unicorn. As a result, we created a "fighting unicorn" silhouette to add into the bright blue/dark blue lining."

— Dennis Kennedy, TaylorMade Graphic Designer
Combining the tartan pattern with the colors of the Scottish flag and a unicorn lining, our 2018 Major Edition Staff Bag pays homage to the historic setting of this year's third major championship.
If you want to own a piece of golf history, head over to your local TaylorMade retailer and pick up your own Open Championship Bag. (Participating Retailers Only - Limited Stock)
As Team TaylorMade tees off at Carnoustie, be sure to follow @TaylorMadeGolf and @TaylorMadeTour for the latest equipment info, inside-the-ropes info, and more featuring Dustin Johnson, Tiger Woods, Rory McIlroy, Justin Rose, Jason Day, and Jon Rahm.