Team TaylorMade's Friday Feels at The US Open
It's golf's toughest test. It's Pebble Beach Golf Links. It's the U.S. Open and were heading into the weekend. 
The rough is thick, the greens are slick and the fairways are narrow, but this hasn't stopped Team TaylorMade. 
A 70 (-1) on Friday got Justin Rose to 7-under and set the target for the rest of the field ahead of the weekend.
"To be in the position I am going into the weekend, I would have taken that at the start of the day."

- Rory McIlroy
Rory McIlroy was full of confidence after he overcame a back nine stumble. Heading into the weekend jut four shots off the lead, roll on the weekend.
TaylorMade's Senior Manager of Tour Operations Adrian Rietveld explained how he worked with McIlroy to fix the gapping in his setup to make up for the loss of a 3-iron.
Rory's wedge setup for Pebble."We needed to find seven yards of distance to cover the gap (between 3-iron to a fairway), so by bending his 4-iron he was able to move his gap from 220 yards (with a 3-iron) to 227 yards (with a 4-iron). So it's ideal gapping," Rietveld said.
McIlroy's "new" club is a P750 4-iron bent down from 23.5° of loft to 22-degrees.
Rory's WITB
M5 Driver | 9°
M6 Fairway | 15°
M5 Fairway | 19°
P750 iron (4)
P730 irons (5-9)
Milled Grind Wedge | 48°
Hi-Toe Wedges | 52°, 54°, 60°
Spider X Putter
2019 TP5 Golf Ball | #22
Dustin Johnson, the 2016 U.S. Open champion, is sticking with the same setup that's brought him a lot of success in 2019. DJ put the Spider X putter in play a few weeks back and is sticking with it again at Pebble to try and conquer the greens.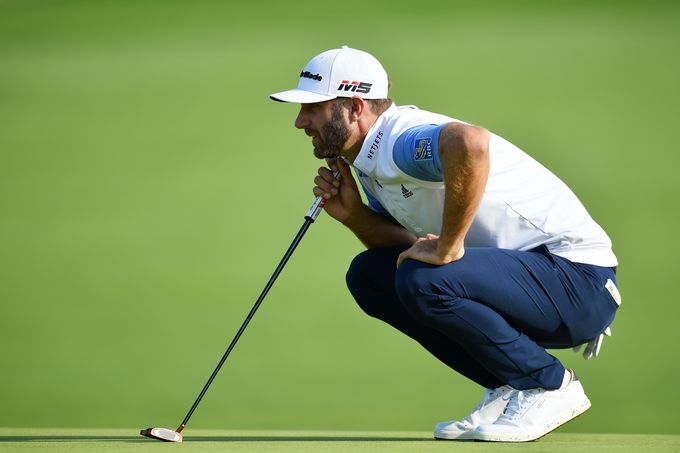 While he's always used a 60-degree MG Wedge, DJ replaced his old gamer with a brand new one with fresh grooves for this week.
DJ's WITB
M6 Driver | 10.5°
M5 Fairway | 19°
P·730 Irons (4-PW)
P·790 Iron (3)
Milled Grind Wedges | 52° & 60°
Hi-Toe Wedge | 64°
Spider X Putter
2019 TP5x Golf Ball
Tiger Woods did not tinker with his bag setup at all this week and rolled into the site of arguably his most impressive major championship accomplishment, a 15-stroke victory at the 2000 U.S. Open, with the same bag that won him the 2019 Masters Tournament. Tiger moves into the weekend level-par.
Tiger's WITB
M5 Driver | 9.0°
M5 Fairway | 15.0°
M3 Fairway | 19.0°
P·7TW Irons (3-PW)
Milled Grind Wedges | 56° & 60°
Haotong Li improved on his first round, hitting 13/14 fairways and averaging 307-yards off -the-tee he's in the red (-1) moving into the weekend. Jason Day made a big switch, changing from the TP5x to the TP5 golf ball. Day wanted a bit more spin with his irons, which prompted the switch to the new ball. Day carded a 73 in the second round heading into Saturday +1 using M6 driver, P·760 irons, a trio of HiToe wedges and his trusty Spider Tour.