Stars and Stripes for Monterey.
History awaits at Pebble Beach.
The U.S. Open Championship is intertwined deep in golf history, reflecting some of the foundational characteristics that make up American history, symbolising fierce competition and perseverance in formidable circumstances. This year, at Pebble Beach Golf Links, golfers and fans alike will again experience the suspense the majestic course commands under spacious skies, waves of thick rough and the shining sea.
The quintessential American story, Pebble Beach opens its arms as a public course for all players imagining greatness and securing an everlasting point on its timeline among golf's bright stars. As the field readies for their first tee shots, the American spirit of grit and drive will be rewarded as it was with the lucky few who have hoisted the tournament's trophy.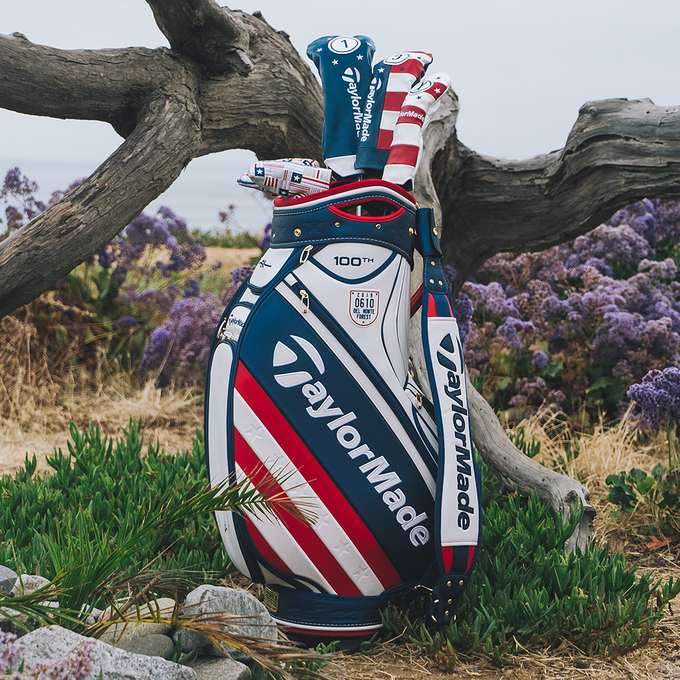 To commemorate the historical significance of the playing of the 119th U.S. Open, TaylorMade has crafted a bag with the spirit of America in proud patriotic glory. Broad stripes and stars shine forth with gold detailing, giving this statement bag a classic and enduring appearance. The extensive symbolism woven into the TaylorMade bag inspires and excites all who love the game.
Six debossed stars placed inside the navy stripe across the top of the bag represent the six U.S. Opens hosted by Pebble Beach. The stars further align as this year's championship coincides with Pebble Beaches 100th anniversary. The beautifully appointed bag proudly marks this centennial milestone with a blue "100" stitched onto the umbrella pocket.
The iconic cypress tree of Pebble Beach's 18th hole is stitched in green splendor as well as an outlined map of the Monterey Peninsula with the routing of 17-Mile Drive and course embroidered on the ball pocket. The coordinates of this historic course can be found embossed near the base of the bag in the final navy stripe.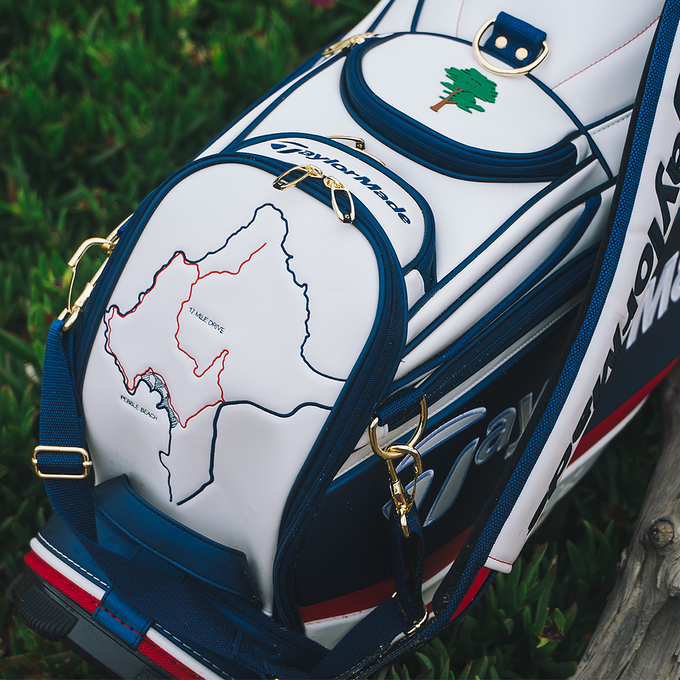 Fun Fact: The scenic drive through Pebble Beach opened in 1881 as a 17-mile tour around the Monterey Peninsula in 1881. It launched from Hotel Del Monte, circled the coastline of Pacific Grove, Pebble Beach and Carmel, before returning to Monterey. While the route has changed — it is now entirely inside the Del Monte Forest — the scenic tour is still a 17-mile drive today.