RORY'S NEW CLUBS & NEW OUTLOOK FOR AUGUSTA
Rory McIlroy stormed back into the spotlight of the PGA TOUR last week with an immaculate bogey-free 64 on his way to victory at the Arnold Palmer Invitational. He seemed to be firing on all cylinders, particularly on Sunday, where he smashed a 375-yard drive and rolled in 7 birdies (plus a chip-in!) to beat the field by three strokes.
His success at Bay Hill came fresh off some significant equipment adjustments, including a new driver shaft, adjusted M3 driver weights, and the addition of a new TP Black Copper Soto putter. This week, as Rory prepares for his run at the 2018 WGC-Dell Technologies Match Play, we caught up with the 4-time major champ to get the backstory of his recent equipment changes and find out what's in the bag as he looks to complete his career grand slam at the Masters.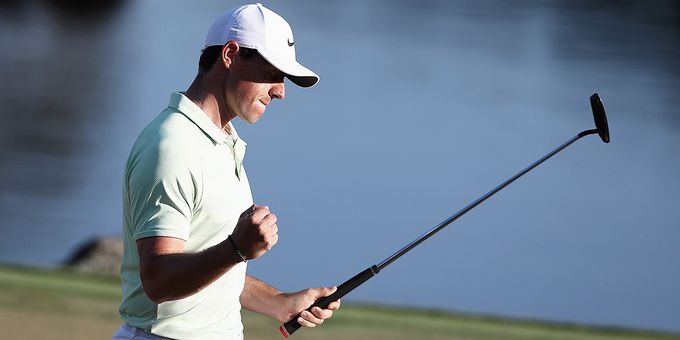 Your Strokes Gained: Putting was +10 for the tournament—best of your career. What were the changes you made last week to get there?
"[It was the] best putting week of my career. I changed putter from the Mullen that I had been playing, which was 33 inches to a 34 1/4-inch Soto with a [slant neck]. I just wanted to go with something that I was a little more familiar with, head-shape wise. [It has] a little more toe-hang to get the toe of the putter releasing a bit more. I tried a couple of putters out on the putting green last Tuesday, and [the Soto] felt really good. I love the Surlyn insert in it—it felt really soft. I holed early on last week, which gave me a lot of confidence, and I just went from there."
What exactly was familiar about the Soto that attracted you to that putter?
"It's a very traditional-looking, blade-style putter—somthing that I've used quite a lot in the past, that I've been very successful with in the past. Obviously, it's a different neck. It's not quite the plumber's neck that I've used before, but it's just something that I went back to and it felt familiar. It felt like reintroducing myself to an old friend."
This is a new finish and a new design to our TP Collection putters. What do you like most about this new version compared to the old?
"I love the new finish of the TP putters. This copper finish is a little bit of a throwback... I really like it, it looks cool. There's no glare on it either. Obviously, that red insert pops on it too. I love the look of it. I tried the Mullen in that finish at Riviera, but I love this putter and I love the finish."
You also made some changes to your driver. What made you want to do that and what were you looking for when you decided to test new drivers?
"I tried a new driver last week—I had been playing the same Kuro Kage shaft for 7 years, and I just thought that in 7 years there must be something out there that's a little bit better. There are all these advances in technology, whether it be with clubheads and shafts and golf balls... so in the past 7 years, there must've been something better than what I was using.
So I tried a couple of different things and settled on the Tensei Orange. But the great thing about this shaft is that I didn't really have to move the weights around too much in the M3 head. I could set it at standard loft, which was great as well. The shaft has been a great addition—tighter ball flight and a little less dispersion."
What were the selling points when you tested it on the range?
"With the driver [setup] I was playing, I felt like in a left-to-right wind I was losing it a little bit to the right. It wasn't quite holding its line as much as I wanted it to. And then with this new [shaft], it held its line much better and I was getting a little more ballspeed out of it as well, which was a bonus. I feel like I get enough ballspeed anyway, but to get an extra 5-6 yards of carry out of this new driver [setup]... that's never going to hurt you. It was nice to find a little bit of distance in that testing session on Tuesday."
Now that you've settled into a new driver and a new putter, how confident are you in your game and your equipment heading into Augusta?
"I'm very confident in my equipment and in my game heading into Augusta. Obviously, the win last week validated that. I felt like my game was in good shape, but I needed to show some signs of it before heading to the first major of the year. Putting so well and driving as well as I did are two really key things that you need to do at Augusta, so to have that part of my game and my equipment basically set, I can just go about trying to prepare the best way I can to play that golf course, knowing that I've got everything I need to play well."
What will your bag setup be for Augusta?
"More than likely for Augusta, I'll use driver, 3-wood, probably 5-wood—all M3. I put the 5-wood in last week instead of the 2-iron... you know, sometimes at Augusta with those par 5s, you need to come into those greens with a little more flight to get it to stop a little quicker. So I will probably [keep] the 5-wood. That means I will probably lose the 3-iron and go 4-iron through 9-iron in the Rors Protos (the 730s) and then I'll have four (MG) wedges. I think Augusta (if the conditions are like they usually are) will get a little firmer as the week goes on and you start to get a few more wedges into greens, and I think just having that extra wedge in the bag to fill that gap could be quite important. So that will be the setup for Augusta. Oh! And the putter—the Soto as well. That's pretty important around there! This thing's not going anywhere, that's staying in the bag for a while."