ONE OF THE TOUR'S ELITE AT 23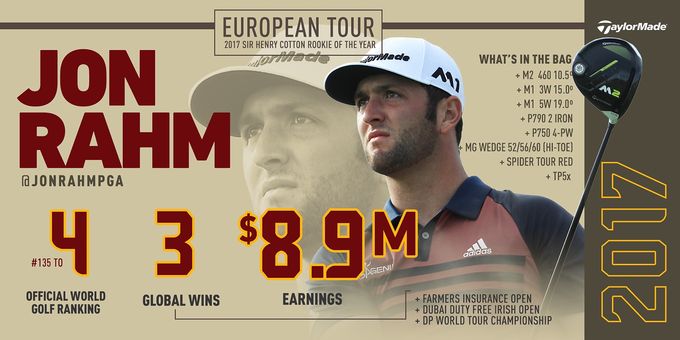 Most US 23-year-olds are recent college graduates desperately searching for an entry-level job to kick off their career. They may be living at home to save money, they may consider pursuing a higher degree back at school, and they may even have doubts about their general direction in life. Not Jon Rahm.
Jon earned his PGA TOUR card at age 21 and immediately launched himself into the golf conversation with impressive play, multiple victories, and ultimately European Tour Rookie of the Year honours. Not only has he established himself as a talented PGA TOUR and European Tour professional, he has placed his name among current greats like Dustin Johnson and Rory McIlroy as one of the automatic favourites in any event he enters.
To look back on a miraculous year and get a glimpse into what the future holds for Jon Rahm, we sat down with the current World No. 4 golfer to hear what he had to say about life on Tour, dealing with success, and preparing for an even better 2018.
It wasn't all that long ago that you turned pro. Looking back over the last 18 months, how much has your life changed?
"I wouldn't say that my life has changed that much. I think I just accomplished a lot of goals really, really quickly. The biggest change was simply getting my TOUR card. I knew those first two months as a pro were going to determine whether I was going to be playing on the PGA TOUR or trying to qualify on the WEB.COM TOUR. Once I was established on the PGA TOUR, I was able to reset my goals for the rest of the year.
I can say is that there is less uncertainty for me now. The more I accomplish, the more comfortable I become on the PGA TOUR, but it honestly hasn't changed my life all that much.
There's life on the golf course, which is our job, and it takes up a lot of time during the year. But your job shouldn't change your lifestyle or who you are. I believe that the truer I am able to stay to my lifestyle and myself, the better I'm going to play."
What have you enjoyed the most about being a PGA TOUR pro and what has been the biggest challenge?
"The biggest challenge is getting used to all the traveling. Week in and week out, there's a lot of stress when you're traveling that much. Without even realising it, it starts to add up over time.
But on the other hand, I get to do what I love. I get to play 30+ of the best golf courses in the world every year. And if you have a year like mine when you play really good golf, it just makes it that much more enjoyable."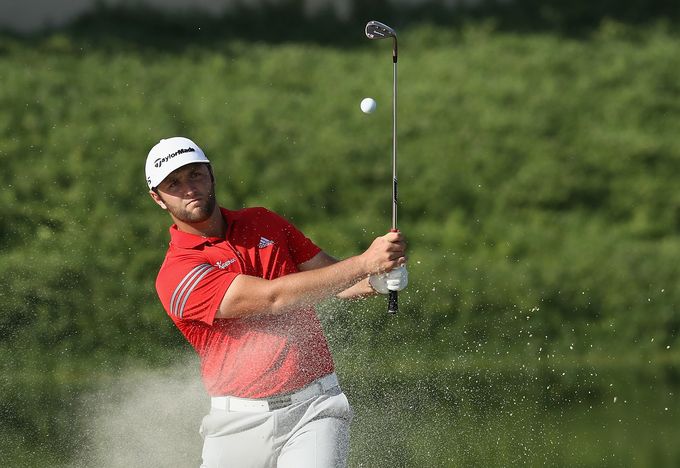 Playing on both the European Tour and PGA TOUR, you've picked up 3 wins in 3 different continents... how have you been able to transition your game for courses and conditions all around the globe?
"You know, it's pretty funny because now that I realise it, both of my European Tour wins came after a streak of poor playing. I didn't play well at Memorial or the U.S. Open, and then I showed up in Europe and won the Duty Free Irish Open. Then I played bad in China and Valderrama, so I took a couple weeks off and came back to win in Dubai.
I think going to a new place can refresh your mind—and that helps a lot. Just having that feeling of being in a different place, being a little uncomfortable, and having to prepare for anything can actually be helpful. You don't want to get too comfortable.
There's no scientific answer that explains why I've been able to win around the world. A golf career is always going to have some "stuttering moments", but in my case, those bad weeks helped me in the long run. That's when you become stronger. It forces you to change something, and that's when good things happened. I wish I never had those bad weeks, but if you don't make mistakes, you're never going to get better."
How do you think your first career win at the Farmers Insurance Open helped propel your success for the rest of the year?
"It was everything. I knew I was capable of winning, but I never knew I was capable of doing what I did down the stretch at Torrey Pines. The quality of golf on that back nine—winning a tournament like that—it's not a tournament that rookies usually win by three shots. It gave me a ton of confidence.
I have never been the type of person to back down and get defensive. So I just rode the crest of that wave as long as I could. I stayed aggressive, my confidence kept building, and I ended up doing really well at WCGs and making a lot of top-10s in a row.
Once I knew I was capable of playing so well, I didn't expect anything else."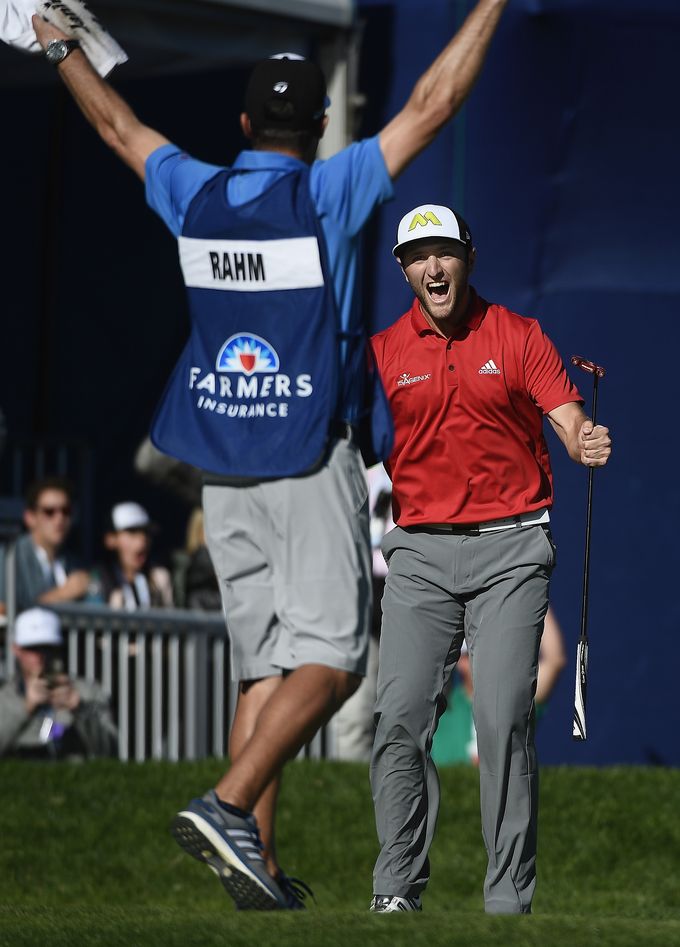 As you continued to climb the World Golf Rankings, how aware were you of your ranking? Did you use it as a motivator?
"There are certain milestones when it comes to the world rankings that you want to hit. At the beginning of the year, I wanted to get into the top-50 so I could qualify for majors and WGCs. Then once I won at Torrey, I jumped into the top-50, so I didn't think about my ranking as much.
But then as I got closer and closer to the top-10, that became a new goal for me. Getting into the top-10 in the world is a massive accomplishment. Then once I got there, I started looking to the next milestone, which was getting into the top-5.
"When you win, you climb up the rankings, so my main focus was to keep playing good golf and trying to win."
You got dialed into your equipment fairly early on in the year, and you didn't make many equipment changes after that. Describe your level of comfort you have found with your equipment.
"I attribute a lot of my success to my TaylorMade equipment. First off, changing golf balls to the TP5x was a game-changer for me. I got a lot better with my ball-striking, and it showed in the stats. I was one of the best from tee-to-green all year, and that not only relates to my swing, but also to how well the ball is performing. The ball is so good in the wind... even when I have to aim away from the pin; I was always so comfortable with how the ball was going to perform.
I didn't change much, but the biggest adjustment I made was changing putters. For 10 years, I had played a two-ball putter. Then I changed to the Spider putter, and I think it's safe to say I had a pretty good year of putting with Spider.
Another thing I changed just before Dubai was my wedge. I put in TaylorMade's new HI-TOE wedge—I know it's not available to the public yet, but I convinced the team at TaylorMade to let me use them at Dubai, and I think it paid off. I played great with the HI-TOE and made a huge up-and-down on 17 that wouldn't have been possible with anything else. I'm incredibly comfortable and confident with that wedge.
But if I had to pick one club, it would be the driver. My M2 driver combined with the golf ball is amazing. The ball flight, the spin control, the launch angle—it's all so perfect and meticulously calibrated. I'm very fortunate to have the best driver in the world in my golf bag."
As you head into 2018, is there any one aspect of your game that you feel you can improve upon?
"This might come as a surprise to most people, but my short game inside of 30 yards hasn't been the best. But I think the new HI-TOE wedge will help out a lot. I think if I improve a little bit on the precision shots, I'll be much better off. It's not like my short game was that bad, but it can definitely get better."
With the 2018 Ryder Cup quickly approaching, what would it mean to you to be chosen for that team?
"It would be a dream come true. I think it's every golfer's dream to play in the Ryder Cup. It's a very different event compared to what we play throughout the year. You not only represent your country, you also represent your continent. It creates an unbreakable bond that lasts for life. Man, it would be a dream come true."
It's clear that you have a fiery competitive spirit on the course, but I also know that you like to have fun while you practice, like hitting flop shots with a 4-iron. How do you think the balance of those two personality traits have helped keep your game in perspective this year?
"I like to express and feel my emotions whether they're good or bad. I live my life to the fullest, literally. If I'm upset about a shot, I like to feel that because it helps me play better. But when something good happens, like at Torrey Pines or in Ireland, I want to express that as well. It's what golf is about: the highs and the lows. You can't expect a flatline from me—it's not going to happen.
Tiger is the same way. When something good happens, he explodes. You have to experience those emotions.
Plus, you have to have fun. It's not always about being focused and keeping a straight face. In the days before a tournament, you don't want to be stressed or nervous. You want to have fun. You want to keep it entertaining for yourself."
During the off-season, before the Tournament of Champions, what will you be doing on a mental and physical level to get great for the 2018 season?
"To be honest, I'm going to Spain for a long time, so I can rest my mind for as long as I can. I'll be back home enjoying time with the family and reconnecting with my roots. Rest is really important, and I'm going to try to give my mind and my body a rest before I really get back after it in January."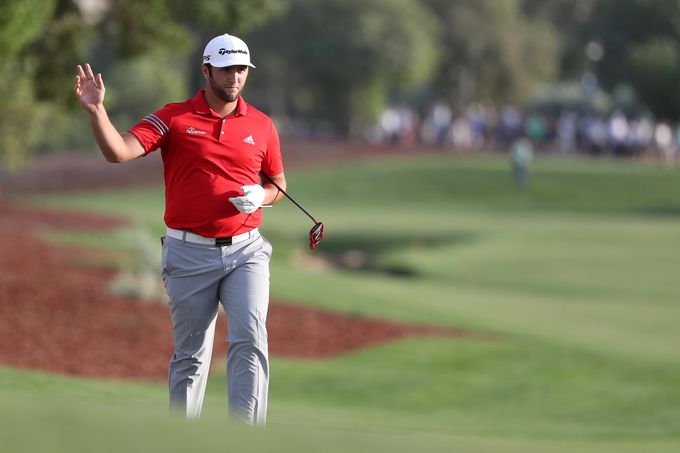 A rest well deserved, Jon. See you in 2018.