It's going to be tough... Again.
After the tough test of Shinnecock Hills, the European Tour lands in Germany at the BMW International Open. If you thought last week was tough, the pressure hasn't lifted as Gut Lärchenhof Golf Course is the 4th toughest course to make par if you miss greens in regulations. Good ball striking is a must this week and players are at an advantage if they drive the ball long and straight. If you're not hitting the fairways, it will be a tough week.
Currently in the Top 15 golfers in Germany, Max Schmitt is making his mark on the Challenge Tour with 4 Top 20 results under his belt so far this season. Making his 2018 European Tour debut this week at the BMW International Open, Adrian Rietveld (European Tour Manager) speaks highly of Schmitt and classes him as a 'rising star'. Schmitt is no stranger to the BMW International Open as he played last year as an amateur finishing 2 under par T59 and this week he returns as a pro.
This week Schmitt spent some time in the putting studio where he had a look at ball striking. Like his driving, Schmitt hits up quite heavily on the ball and because of that he needed a change to the loft on his putter. Schmitt is playing a Spider Mini T-Line with about 0.5° loft and its helping him get a better roll on the golf ball with less skid, giving more consistency of distance and control.
Over the past couple of weeks Schmitt has been working closely with our team looking to lower his ball flight with his M3 Driver. Looking at the FCT sleeve, he had a 1° sleeve on a 8.5° head on the lowest setting and our team made a slight adjustment to the sleeve (1.5°) which meant that his driver had a 6.5° loft. Adrian goes into the reasoning behind this;
"His delivery on the golf ball, he hits up 5,6 sometimes 7 degrees which means he hits the ball very high. That's quite unique for a player but he's [Schmitt] at about 165-166 ball speed, but when you watch him hit drivers he hits it a lot longer than what most people hit when they are around his ball speed. And the reason for that is he optimises his launch conditions, so very high launch and low spin'
'We were at a point where we were thinking he was hitting it too high, so what we were trying to do is to bring the launch down slightly and that's what we did. By changing it from a 1° sleeve to a 1.5° sleeve we were able to take an extra half a degree off our lowest lofted head and that means that his spin and launch came down just a fraction and Max felt like he was in better control"
Fellow countryman and two-time major winner Martin Kaymer returns to the BMW International Open where he has previously lifted the trophy. Kaymer had his best finish this season at the Italian Open where he shot 68, 63, 68, 69 and has returned to Germany off the back of his US Open appearance.
"I like playing here. The golf course is presented very well, so I look forward to the week."

- Martin Kaymer
Using the range to warm up, Kaymer spent most of the week out on the course getting a feel of the greens after the tough test of Shinnecock Hills.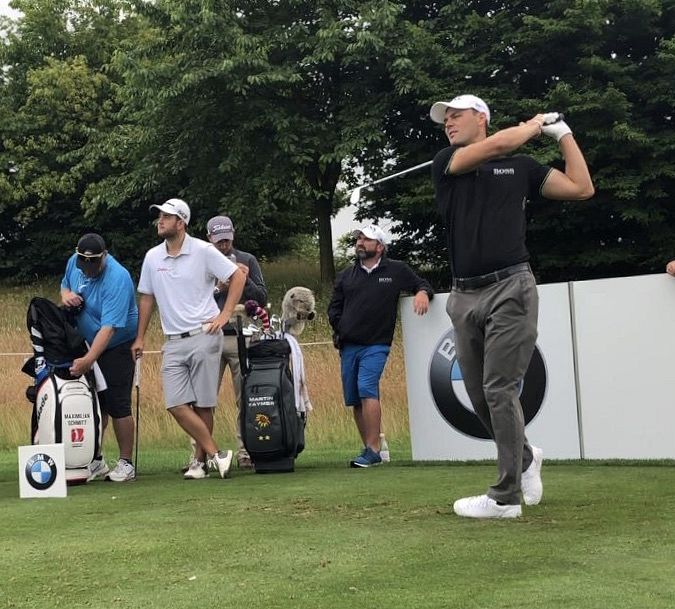 Kaymer and Schmitt went out on the course together where Kaymer was seen to be giving Schmitt a few tips particularly when hitting shots from the rough, encouraging him to increase his speed through the hitting area and to trust the ball. The dense nature will prove costly if your ball were to land outside of the fairway. Many players have said they treat it like a bunker shot, not a lot of variety in shot making – just get it on the green.
Growing week on week our Sports Marketing team are undertaking more putter work; after the launch of our Spider Mini more and more players interested in testing our Spider range and putting it in their bags. Speaking to Adrian about this he said;
'People don't change their putters, they don't change from a specific shape or model to where our Spider is - very unique and quite drastic compared to your traditional shape of putter, but slowly but surely were seeing a handful of guys every week testing the Spider and as the weeks go by, it's interesting to hear the comments from the players where they're saying to us it seems like everyone is using a red Spider and rarely what it is, is that it's one or two guys switching each week and all of a sudden 5-6 weeks go past and the putters are staying in their bags so 10,12 more putters are out on the course, and these players are getting good feedback'.