CELEBRATING VICTORY AND MAKING HISTORY with Jon Rahm
Less than two years ago, Jon Rahm made his professional PGA TOUR debut. Today, he has risen to the No. 4 in the world golf rankings, picking up 5 worldwide wins along the way (including two victories already in 2018).
Last week, his 5th win was perhaps the most sentimental as he captured the Open de Espana in his home country. With his win, Rahm joined an elite class of Spanish golfers to have earned victory at this special event and further cemented his position as one of golf's most promising young stars... he's only 23 years old.
We caught up with Rahm during his week off to talk about his emotional win in Spain, learn how he celebrates his victories, and hear his thoughts on his rapid ascent into golf history.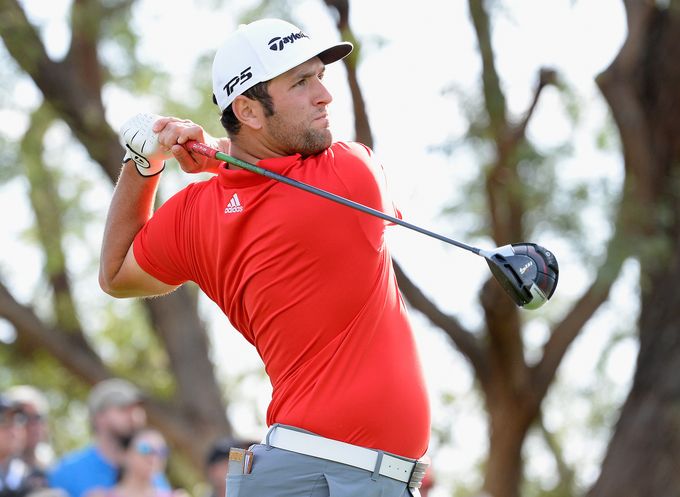 In general, was playing in front of a "home crowd" at the Open de Espana more pressure or more motivation for you?
It was definitely motivation. The support of the people was unbelievable. There were a lot of people following me, hoping for the best for me, and wanting me to win. There was a lot of intense energy going on.
But it was also hard in the sense that it was tough to keep my emotions in check—trying to stay somewhat balanced and within my limits. Any time I hit a good putt or a good shot—even just a regular shot—people were going nuts. I tried to use it all to my advantage, but I had to keep it all in check at the same time. Even when I would miss a shot, people would still clap and get loud... it was so different and almost overwhelming.
If I made a birdie, walking from the green to the next tee, people were going crazy and it was hard to keep myself somewhat calm because my adrenaline would go up so high on every single hole. It was a challenge to keep it under control.
To be honest, coming off a major like at Augusta when I was in contention on Sunday, it just took an incredible amount of energy to try to win in Spain. It was an intense week... in a good way.
How difficult was it to fly from Augusta to Spain and adjust to the time difference in a matter of days?
It felt like the fastest I've ever been able to adjust. It took me just a couple days. We landed Monday, and by Wednesday I was OK. I felt like I was going to run out of energy at some point, but that didn't happen.
I think the energy in Spain helped because by the time I flew back to Scottsdale the following Monday, I was drained... absolutely dead. I couldn't function.
What does it mean to you to have won the Open de Espana?
That golf course is where I practiced my last two years of high school, so everybody at that golf course knew me. It's almost like a second home to me. So, to win there was amazing, but to join the other Spanish names who have won there—there is so much Spanish history, and to be a part of it is just amazing.
After you win an event, how do you celebrate? Do you treat yourself to a nice dinner? Do you buy anything special?
When we come back to Scottsdale, there's a restaurant we always go to called Dominick's Steakhouse. Whenever we win, we celebrate it there. It's my favorite restaurant.
I'm not a flashy person. Other people may go out and buy something when they win, but for me, I celebrate with a couple days of rest. Then once we get back to business, the win is history and it's on to the next event.
When do you typically begin thinking about that next event?
It depends. My first few wins, like after Torrey Pines, I had a tournament the week afterward, so I had to flip the switch right away. After Dubai, I had plenty of time to think about it. This time, I only have one week. I always try to allow myself to enjoy the win, but after a few days, I have to move on to the next thing.
Digging into the stats, you were #1 in GIR at the Open de Espana. Do you attribute that more to solid ball-striking or strong driving?
It was a combination of both. My iron game was really good. My driving with M4 was outstanding. The course was not very long, so with me hitting the driver the way I was, I had a wedge or 9-iron into every green. I was constantly thinking about hitting it close on my approach.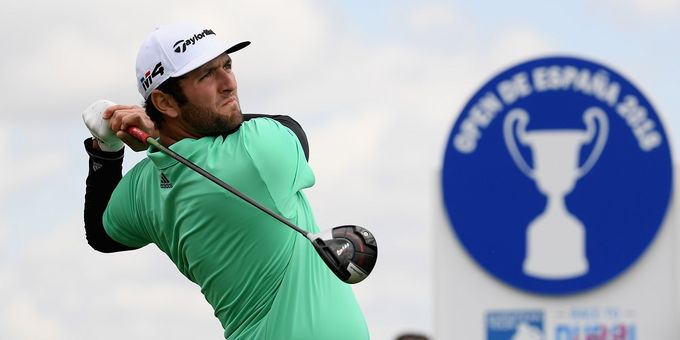 You were also #3 in birdies for the week. How high is your level of confidence with your putter?
I'm always really confident in every aspect of my game, to be honest. Statistically, I'm a good putter inside 10 feet. From 10-20, I drop off a little bit. From 20-25, I'm a good putter as well.
When I go to a golf course where I have so many wedges and I'm going to hit so many shots inside 10 feet, I know I'm going to have birdie chances. I'm really comfortable with my Spider Tour putter and I'm never afraid of having 3 feet back to the hole, so I'm able to have a decisive stroke.
I have full confidence in every aspect of my game, and that's why I'm able to be so aggressive.
Over the last 2 years, you've gone from picking up your PGA TOUR card to rising into the top-5 golfers in the world. Your ascent has been quicker than most of the other great young players on Tour. What do you think separates yourself from those other young stars?
It's a combination of many things. If we're talking about my golf game, I think the most important part is my driving. I've been really consistent and accurate off the tee, which produces low scores even if the rest of my game isn't great. Beyond that, I think it's just my mental capacity—I'm never going to give up and I'm going to give it my all no matter what.
A lot of times when I have a 3, 4, or 5-over par round going, I am able to bring it back close to par... those are rounds that are going to save tournaments. Augusta is a great example: I doubled 16 to go to 3-over and I battled to save par on 17 and 18 when some other people may have quit mentally. Something Tiger used to say was, "It doesn't matter if it's the first shot on Thursday or the last shot on Sunday." He puts the same amount of importance on every single shot.
I'm also incredibly competitive. I despise losing. I don't enjoy any aspect of it. Yes, you learn from it, but I don't like it... I think it's that hatred of losing that forces me to perform as best as I can.
4 of your 5 wins have been come-from-behind victories. What is it that you enjoy about being in that position?
I enjoy the hunt. I feel like if I'm within a shot or two heading to the back nine on Sunday, I just focus on the fairway and the flag every time. Then once I get to the top of the leaderboard, I just keep telling myself, "You're 1-shot back. You're not leading. You're 1-shot back. Keep making birdies."
Once I get close, I'm never going to slow down.
You now have 3 wins in 18 starts on the European Tour, making you the fastest person to ever get to 3 wins... what are your thoughts on that accomplishment?
I'm somewhat speechless. I had no idea. It fills my heart with joy.
It's amazing considering all the great players who have played on the European Tour... it's extremely humbling. It motivates me as well because if I'm able to do something that no one else has done, as small as this may be, why wouldn't I be able to do all the things that those other great European Tour players have done?
But first, let's just see if I can be the fastest to get to four wins!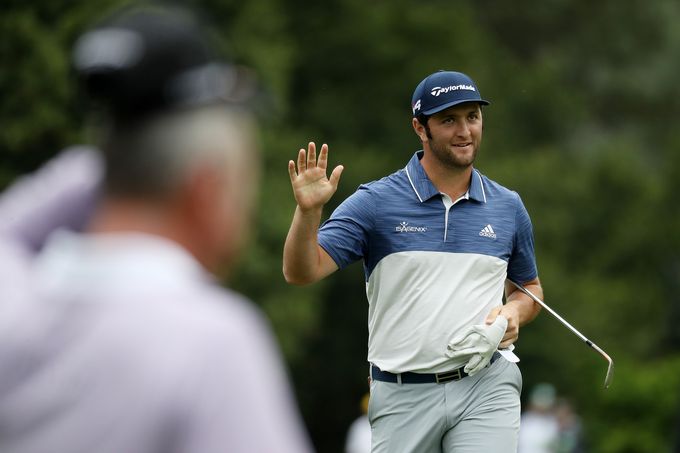 You're currently No. 4 in the world, you played great at Augusta, you already have two wins this year... do you find yourself already looking ahead to the remaining majors and the Ryder Cup?
No. I'm not a person who looks too far ahead. I like to live in the present and enjoy it. Right now, the farthest I look ahead is next week. I go week by week, day by day.
Looking next week's two-player format at the Zurich Classic, is there anything in terms of preparation or strategy that you and your playing partner are going to do differently compared to a normal event?
Not really, no. Each of us has our strengths. We can just try to be as ready as possible, and then once we get to the tournament to see the holes, we can start to determine who will tee off on which holes. We're a great partnership. He has a great short game, and I'm really good from tee-to-green. Based on that, I will probably take on the more challenging tee shots, so we can hit the approach and try to make a putt.
At the end of the day, no matter who tees off where you still need to hit the shots and make the putts. Strategy only gets you so far.
Knowing that you don't like to look too far ahead, I'm still going to ask you to look far ahead... At the end of this year, what do you hope to have accomplished as you look back on 2018?
To be honest, at the end of the year, the question I'm going to ask myself is, "Did I give it my all? Did I do everything I could to perform at my best?" That's all I will ask myself.
... and the answer is probably going to be a "yes" because I don't like doing things halfway.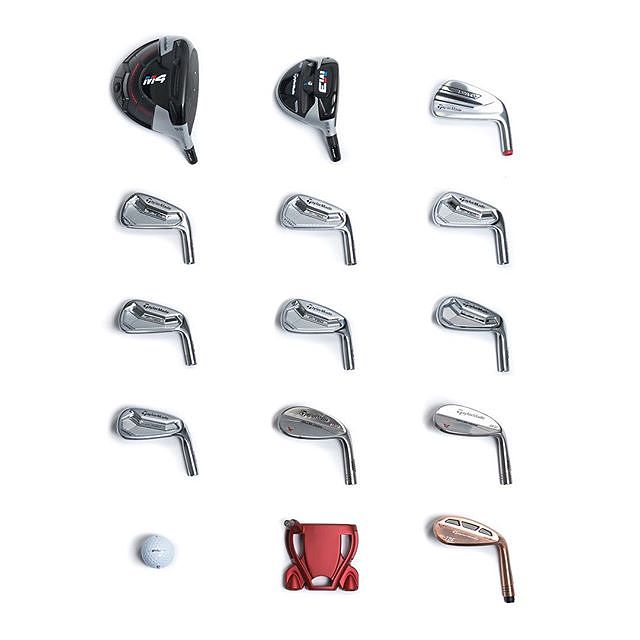 Jon Rahm's "What's in the Bag"
To learn more about Jon Rahm and see his full WITB, click HERE.