BMW PGA Championship: A Sleeping Giant with Swirling Winds
The dates might have changed but in general the BMW PGA week at Wentworth is still the busiest week of the year for the Team TaylorMade Sports Marketing team. It truly is a dusk-til-dawn approach as the European Tour's finest look to make an impact with the spotlight of the golfing world centred on Surrey.
"The tour truck is on site and is prepared to service any request thrown at the team. In the UK this event has the prestige and history to attract the best players"

– Adrian Reitveld
A lot of time was spent the week before going over all the equipment. Our team look through the entry list and go through player by player to ensure all players grips, shafts, gloves, balls etc are on board the truck should they need anything. 90% of this they know might not be used, but they can't afford to be caught off guard.
Making his debut this week, nobody has had more success in the Rolex Series than Jon Rahm and not one to disappoint, he takes a share of the lead moving into the weekend.
"We have a lot of courses like this [in Spain] where you have tree-lined, not long, and you can be aggressive."

– Jon Rahm
Rahm and his caddie tapped into the experience Adrian this week as neither of them had played on the prestigious West Course before. Adrian used to be the Pro there and played 2-3 times a week for the most part of 5 years.
"The course is prefect, its typical Wentworth, a sleeping giant with swirling winds, it can catch you out!"

– Adrian Reitveld
With Adrian's local knowledge, Adam walked to course to get a better understanding and disagreed with only one point. With Rahm's powerful drive he thought it would be M5 driver off the 1st tee where Adrian would proceed with caution and play safe.
You might notice a certain signature Red Spider Tour missing from Rahm's bag this week. He's switched into a Spider X with a very unique spec. A standard putter on the European Tour is around 34.5 inches, Rahm uses a 37-inch Copper Spider X with a Super Stroke Pistol grip. He has 3 degrees of loft and a lie angle of 68.5 which is a little flatter than standard, this makes Rahm's putter extremely heavy but he's rolling in birdies so it's working for him!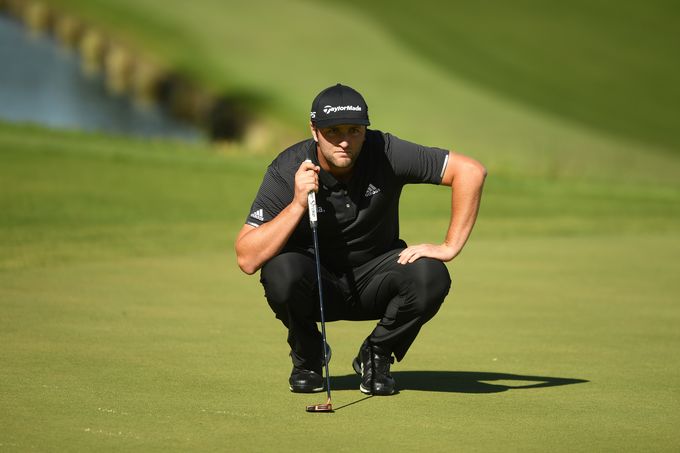 "He's [Martin Kaymer] played well this year and has climbed 100 places in the World Rankings. He will focus now on the European Tour and by the time The Masters comes up he wants to be moving in the right direction and be in the World Top 50."

- Adrian Reitveld
With that goal in mind, Martin Kaymer arrived at Wentworth looking to see if there were any changes he could make to his set up. Looking at his iron set up, he's asked the tour team if there's a shaft he can use though out as he currently uses a Recoil graphite iron shaft in his 3 and 4 iron and an AMT X100 in his 5 iron down. He will look to test in the off season and achieve his goal.
Taking the European Tour by storm, Robert MacIntyre is on the hunt for his maiden victory after another runner-up finish at the Porsche European Open.
Looking to continue his momentum he worked with Sam Day to see how he can put himself into contention again this week and dialled in a new M5 Fairway. We spoke to Sam after their range session;
"His 5-wood was going too far, it was a bit hot compared to his 3-wood and it was going a similar distance. What we tried to do was take a little bit of length off it and added a bit more loft to get a bit more spin and get the launch up to land softer. Robert needed something that goes 245-250 on the fly but would stop at 260-265 and then his 3-wood would be 270 fly. We're at Wentworth where the greens are firm, so he needs to stop it quickly especially into 12 and 18 so he's got a golf club fitted especially for this week, he wont be able to use this around any other course.'"

– Sam Day
Most players hopped on the truck this week to get a full bag MOT, many loft and lie checks ahead of the long stint on the European Tour where the tour truck can't get to. Rory McIlroy worked with Keith Sbarbaro in dialling in a backup M5 driver as he focuses on the upcoming events on the European Tour. Next week at Dunhill Links, Rahm will work with the team on getting a backup driver along with fresh wedges.
Find out more about our tour team as Seb on Golf asks them quick fire questions!