Abu Dhabi: DJ, McIlroy & Rose
What are your weekend plans?
The stage is set for a thrilling weekend with DJ, Rose & McIlroy all lining up at the Abu Dhabi HSBC Championship 2018. With one of the most iconic tee shots on tour, hitting straight towards the Falcon Clubhouse on the 9th and the coveted Falcon trophy up for grabs, it looks like it's going to be a good weekend.
World #1 on the European Tour
Dustin Johnson takes a break from the PGA Tour and steps across the pond making his first 2018 European Tour appearance off the back of his 17th PGA Tour Win.
"I played very well the first week and I had a week off and now I'm here in Abu Dhabi, which is a place where I enjoyed coming last year. "

– Dustin Johnson
The first point of call for DJ was the TaylorMade tour team; out on the range DJ was seen testing each club, getting a feel for the tournament but the main focus was on his Spider Putter. He was struggling with his putting end of last season, and he worked with the team in Carlsbad to figure out the best way to improve his putting. Speaking highly of his new 'T-Line' model, he believes that this is his best club in his bag.
There are no changes to his bag this week after his win at Kapalua, however new grooves were added to DJ's Hi-Toe 64° wedge, a new addition to his bag this year and one that he can't speak highly enough of!
"When it comes Sunday, I just want to be in a position where I have a chance to win. If I do all the right things for the next few days, then I definitely will have a chance when it comes Sunday."

– Dustin Johnson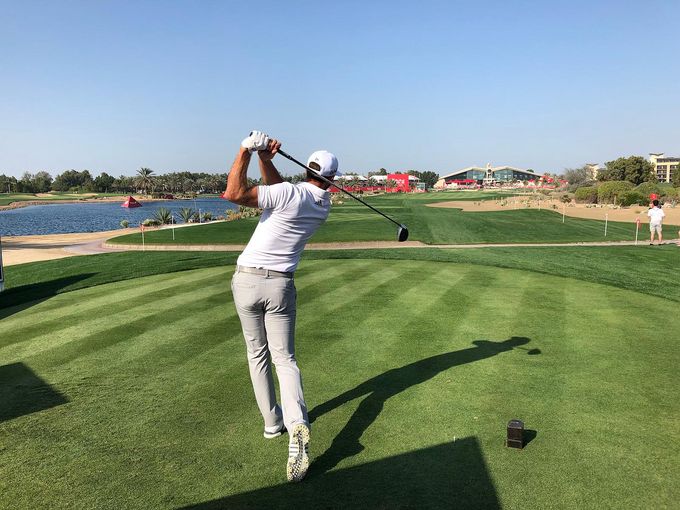 Justin Rose
Justin Rose landed in Abu Dhabi hoping to pick up where he left off following his winning ways at the end of 2017.
"I think I finished the season with ten straight top-tens, and that's not been done by me and probably not been done by many,"

– Justin Rose
This will be Justin's first tournament using the new TaylorMade products and he loves the look and feel. There has been a couple of new additions to Rose's 2018 bag, he has added the new M4 15° fairway this week and the new M3 being his choice of driver. He will play M3 8.5° driver and has changed into the Mitsubishi Tensei Orange 60 x-flex shaft. The TaylorMade Tour staff went through rigorous testing with Justin to get his new clubs dialled in. Data showed that Justin went from 172mph ballspeed with his M1 to 176mph with the new M3 driver, reaching 180mph ballspeed when it hit it harder.
Justin has also been working on his Iron shots, looking at how he can control his distance and accuracy. When testing, data showed that by changing into a heavier iron shaft in his 8,9 and PW moving from 125g to 135g he can improve his approach play from 150 yards and closer.
Rory McIlroy
"Abu Dhabi is the perfect place to open my season's campaign. Having come really close here on more than one occasion, I will be completely focused on trying to win the coveted Falcon Trophy"

– Rory McIlroy
This is the week that golfers have been waiting for. Rory is back, and he has put the M3 driver and M3 fairway straight in his bag. Rory has been working with the TaylorMade staff for a while, testing the new product and seeing what works for him best. On Sunday the TaylorMade tour team worked closely with Rory making one final change to his bag set up for the week. They moved the weights in the new Y-Track system all the way forward to create a low spinning driver due to the windy conditions in Abu Dhabi.
Along with DJ and Justin, Rory will also have the Hi-Toe wedge in his bag this week; this is quickly becoming a tour favourite!