THE UNIQUE NATURE OF FITTING: TIGER & RORY
TaylorMade's VP of Tour Operations, Keith Sbarbaro, works with the best golfers in the world day in, day out. He plays an integral role in completing weekly fittings on the PGA Tour, managing relationships with our athletes, and building new relationships to sign players like Tiger Woods and Rory McIlroy.
Keith called into the Playing Through podcast to discuss his fitting process, working with Tiger and Rory, and the impact of Twist Face in 2018.
Here are some of the highlights from the podcast:
THE UNIQUE NATURE OF FITTING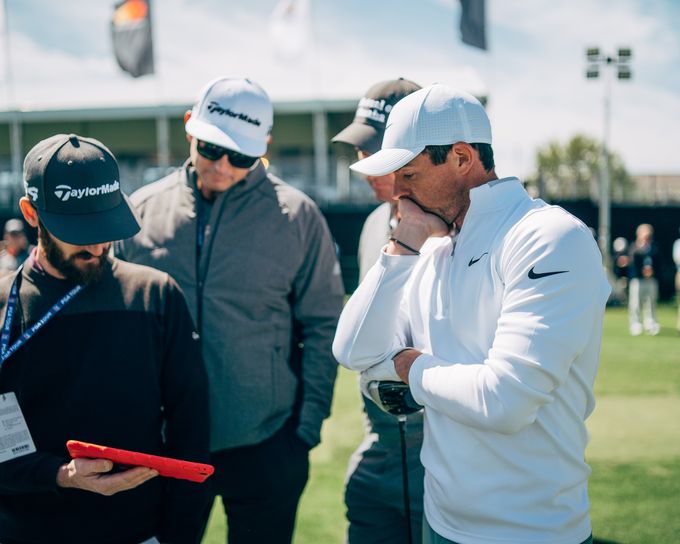 "Every guy on Tour needs to be handled a little bit differently. I mean, they all don't play the exact same specs. They all present the club differently. Each player is unique, but the advantage I have is that I've been working with a lot of them for so many years that I just kind of know what they want before we even get to an event.
You look at Rahm, Dustin, Rory, Tiger, Rose, and Day... they all hit the driver so well that it makes my job fairly easy just to dial them in. However, each guy still operates differently. Once Rory and Rahm find something they like, they almost never switch. DJ, on the other hand, will tinker a little—he's already played both the M3 and M4 drivers this season. Looking at last year, he won 3 or 4 tournaments in a row with one driver, and two events later, he switched heads into a different driver. Dustin is not afraid to switch something on Thursday, Friday, Saturday, or even Sunday if he thinks it's better.
When we first start fitting these guys, I like to start with whatever shaft they had been playing previously—because if you start changing heads and shafts, you start questioning if it's the head or the shaft that's causing different performance. We generally stick with the same shaft, but if that's not working, then we start looking into new shafts.
It all comes down to the player. I'm never looking to fix something that's not broken. But if Dustin isn't driving it well, he's going to call me and say, "Hey, I need some drivers. I need to work this week," and I will ask him a few questions to see what's going on. From there, I will try to diagnose the issue and send him a few options to adjust his flight or spin or whatever it is he's trying to fix. We take every player and every build on a case-by-case basis and work through it on the spot.
TRACKMAN AND RORY MCILROY ON TOUR
When we're fitting guys with TrackMan, we almost always do it on the "normalised" setting. I like it because it takes out all the variables. So, I do most of my work on "normalized."
Every year, the goal is to get these guys into something a little bit better. With Twist Face, this is a really exciting year for us—it's one of the coolest things we've done in a really long time. And with TrackMan and head tracker technology, we've been able show guys exactly what happens when you hit it off the heel or toe. This ended up being the selling point when we fit Rory McIlroy.
He started with his 2017 M2 driver, and he was hitting it perfectly. But he finally hit one about 3mm on the heel, and the ball curved 9-yards offline to the right. Then we started messing around with Twist Face, and he hit one 9mm on the heel and it only went 3-yards right. So instantaneously, we were able to show him that data.
I'm in a fortunate position to be working with the best players in the world with access to the most advanced fitting technology in golf. But whether you're working on Tour or in a local pro shop, my advice to anyone fitting is to keep it simple. When you start throwing in too many heads, too many shafts, and too many weight changes, you're way off. Everything should be pretty simple in golf."
THE KEY TO FITTING TIGER WOODS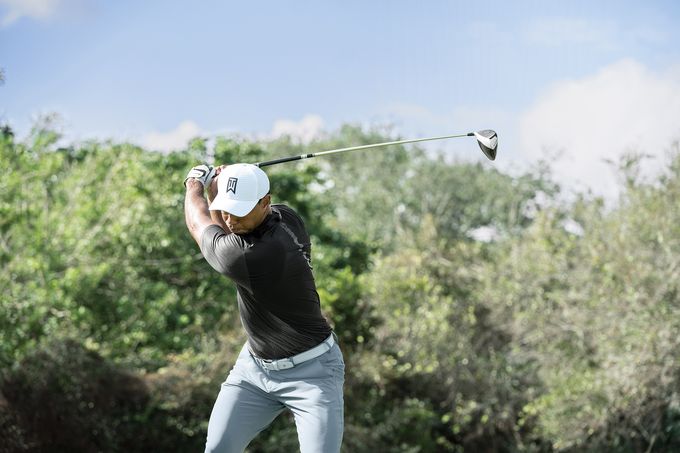 "Tiger's golf IQ is as high as anyone you'll ever be around. I think the biggest thing with Tiger is just listening to him... He asks a lot of questions and he wants to learn about the products. To be quite honest, he kind of fits himself. He's very good with feel—if the CG gets moved too much the toe, he's going to notice. He will grab a club and waggle it... and sometimes he won't even hit it after the waggle. I mean, I've seen him do that a couple times. His sense of feel is just incredible.
In general, I don't try and do too much with Tiger. I just try and let him talk and ask questions and then just try to help lead him to where he wants to get to. He's looking for a certain flight, he's looking for a certain shape, and he's looking for his misses to do what they should. And I think in those first few events this year, he wasn't seeing that. A lot that probably has to do with why he changed shafts. The first time I went to see him, he went into that Tensei shaft that worked great for a while, but I think as he got stronger, he felt that the head just wasn't where it needed to be at impact. Ultimately, it was his idea to go back to an older shaft that was a little more stout. Since then, he's much happier with his driver setup."