TAYLORMADE GOLF ANNOUNCE NEW TMPL TO BRING GOLF'S ULTIMATE FITTING EXPERIENCE TO SÖDERBY GOLF AT GOLFUPPSALA
TaylorMade Performance Labs unite the golfer, fitter, and advanced technology to deliver golf's Ultimate Fitting Experience™. Golfers across Sweden and the Scandinavian region can now experience this best in class fitting facility at Söderby Golf.
Basingstoke, Hants. (June 6, 2019) – TaylorMade Golf announced today the instalment of a new TaylorMade Performance Lab based at Söderby Golf in Sweden. The synergy between Golfer, Fitter, and Technology lies at the heart of TaylorMade's Custom Fitting philosophy.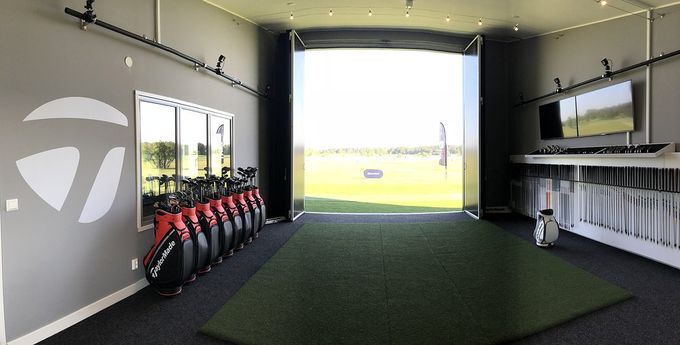 "We're extremely excited and proud to work in conjunction with Jonas and the team at Söderby Golf on the TaylorMade Performance Lab. The combination of the GEARS and Trackman systems deliver exceptional biomechanical, club and launch data that will result in the golfer receiving an accurate analysis and optimum custom fit."

Simon Gilbert, Senior Marketing & Experiential Manager
Söderby Golf at GolfUppsala benefits from first class golfing and leisure facilities and also plays home to the Swedish National Junior Team, which combined with its proximity to Stockholm provides the perfect location and venue for the TMPL to attract golfers from all over Scandinavia.
WHAT TO EXPECT AT A TMPL FITTING AT SÖDERBY GOLF:
Jonas Ekström and his highly-trained team of Master Fitters will analyse information obtained from the GEARS 3D system. GEARS is a full swing club and body tracking system used by PGA pros, club fitters, and club manufacturers to measure and analyse every nuance of a swing, in full 3D, from address to follow-through. Built on the same technology used by biomechanists and filmmakers, GEARS is the most advanced motion capture solution developed specifically for golf. An optical motion capture system uses high speed cameras to capture different angles of a golfer to create a full capture. GEARS is powered by seven 1.7 megapixel cameras running at 360 frames per second which look at over 600 images per swing to track everything that's going on with the golfers body and the club.
By looking at the body, club and golf ball simultaneously, no stone is left unturned during the golfers fitting session. Based on the data gathered on the GEARS System, and the trained eye of a TaylorMade Master Fitter, players are then tested to validate that they have correct fit.
The GEARS data in conjunction with the latest in Trackman Launch Monitor Technology to measure launch conditions enable the TMPL team to determine the optimum combination of club head, shaft, grip, swing weight, and adjustable settings for the golfers swing.
"We are really excited about having the new TMPL at our facilities at Söderby Golf. We have built a long and successful relationship with TaylorMade and this new facility will only make our bonds even stronger. We are thrilled by the faith shown in us by TaylorMade by offering us this opportunity and support. With this fantastic tool for custom fitting highlighted by the GEARS Technology I am sure that we will excite our members and guests. We believe this best in class club fitting experience combined with TaylorMade equipment will help golfers get to the next level of their game. We are also sure that we will be able to attract new customers to our site in the near future and keep them in the long run."

Jonas Ekström, Managing Director, Söderby Golf at GolfUppsala
WHAT'S INSIDE:
A reception area with a welcome desk, sofas, drinks, snacks and putting green for golfers to enjoy in a relaxed environment prior to their fitting
An observation window where the golfers friends and family can watch the fitting take place
Inside the lab is the state-of-the-art GEARS Technology, Trackman Launch Monitor Technology and 2 TV Screens to display the data
A comprehensive selection of shafts, metalwood and iron heads, wedges, putters and golf balls to suit golfers of all abilities
The ability to hit in doors and open the shutters to hit out onto the driving range
The TMPL at Söderby Golf, GolfUppsala joins TaylorMade Golf's other TMPL locations across Europe; Kölner Golf Club - Cologne, Germany (Central Europe), Golf Santander - Madrid, Spain (Southern Europe) and Wentworth Golf Club - London (UK). 
Find your nearest fitting location here.