Spider X, Spider Tour & Spider Mini: What are the differences?
To get some additional insight into the Spider putters trending on Tour, TaylorMade Tour Representative, Mark Thistleton joined us for a Q&A.
What are the key points of differentiation between Spider X, Spider Tour and Spider Mini?
MT: The most obvious one is size and shape. The reason the Spider range has been so successful is down to the perimeter weighting, simply put, the further back and away from the face you can put the weight in a putter, the higher the MOI which means more stability which equals more putts made.
The challenge is always spreading the weight back and either side of the face but in an aesthetically pleasing product. The range has been evolved from the Daddy Long Legs, to make it as attractive to the eye as possible yet maintain stability and with Spider X, judging from the feedback on tour we have achieved this!
The added benefit to Spider X is that it has a clear and easy alignment aid on the top so as well as stability it is by far the easiest Spider putter ever to line up to your intended target line.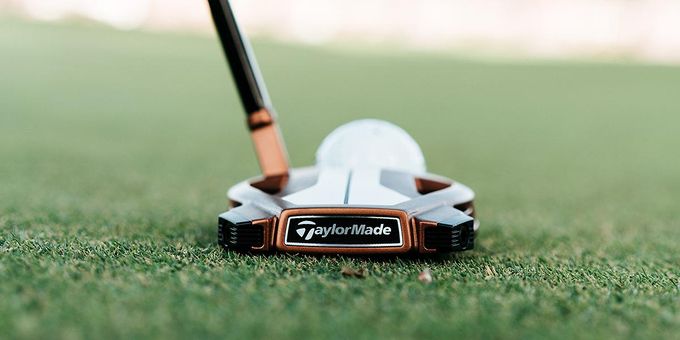 Are Tour players favouring one putter model over the other?
MT: Spider X in general has been a massive hit and is bringing more unknown and uncontracted players to the tour truck than we have ever seen for a single product before. There is a variation in preference in terms of sight line, colour and neck, which we can offer the guys on tour, but for sure the most common is the short slant neck with the full sight line – basically the one that Rory plays and the one you can buy in the shops.
Do you still see Spider Tour as the lead product within the Spider Putter Family on Tour? Or is Spider X becoming more popular?
MT: Spider X for sure. Almost everyone who was in a Spider Tour has favoured the Spider X, plus it has attracted all players who were in a mallet style putter.
How will amateur golfers benefit from having that same choice between Spider X, Spider Tour and Spider Mini?
MT: As a choice it is going to come down to colour and shape and alignment preferences. If a player struggles with lining up, then the Spider X is going to be the obvious choice. If the player likes the bigger head putters or their eye prefers red against the green grass then the Spider Tour will lead the way. But if a player likes the more compact look but still wants extra stability the Spider Mini is a great option.
Spider Mini is a good option for players transitioning from a blade putter as it's not too big but will for sure give them extra stability and pace control versus their blade. Spider X will be the most popular choice because it seems to blend both options with the added alignment aid.
On Tour, there's a wide variety of hosel options, sightlines, and colours that the players can choose from. Why is it important for them to have those customisations at their disposal?
MT: The main reason we do this is to try and get as many players using and benefiting from the product as possible which will in turn generate attention in the market place. Players on tour use a whole variety of different set ups in terms of grip, short line, long line, dot, L-neck, face balanced etc, so it's important we can cater for all. Then, we take the most popular options from the feedback on tour and these go in to our retail options.
On the European Tour, what player has the most use out of the different customisations they can use?
MT: That's a tough one, in general all the options are achievable, but we did do a VERY unusual spec last week in Denmark, a request came through to make it as heavy as possible and with an unusual line and a dot set up. Then there is staff player Ewen Ferguson who always wants something cool stamped on his putter which we can't do in Europe, so he is happy to wait a couple extra weeks as we get his putter stamped up in the US lab. Lucas Herbert has had 3 slightly different variations, all of which were slightly custom, he has settled on a face balanced copper Spider X with a T-line and 'HERBY' stamped on the bottom.
What do you think makes Spider the best family of putters in golf?
MT: They're unique to look at yet the theory behind them really works! TaylorMade has always been a market leader in technology and everything about Spider is technology based with the idea being to improve people's performance on the greens. Fortunately, people have taken to the unusual look and it has really taken off.
If the technology didn't work it would have been a fad, but because people are trying it and see the benefits, it has created real momentum and golfers are excited to see where TaylorMade will take the Spider range next and how they can improve on what we have!