Ryan Giggs & Paul Scholes - Why I Love Golf
Two of the most decorated players in football, Ryan Giggs & Paul Scholes have been to the very top of the sporting world and played in some of the most iconic venues around the globe. Now though, there's a new competition for them. 
"When you're playing football you don't really have the time or have the energy to play golf regularly. Over the last couple of years, I have taken it more seriously."

– Ryan Giggs
For both of them, the relationship with golf was one that began fleetingly rather than being an instant focus. For Ryan it was pretty simple - "If we went away pre-season you would get a day off, what do you do, you just go and play golf, so that was it really. I've never had any lessons, I never joined a golf club until very recently. It was just the odd time and as you get older you get more into it".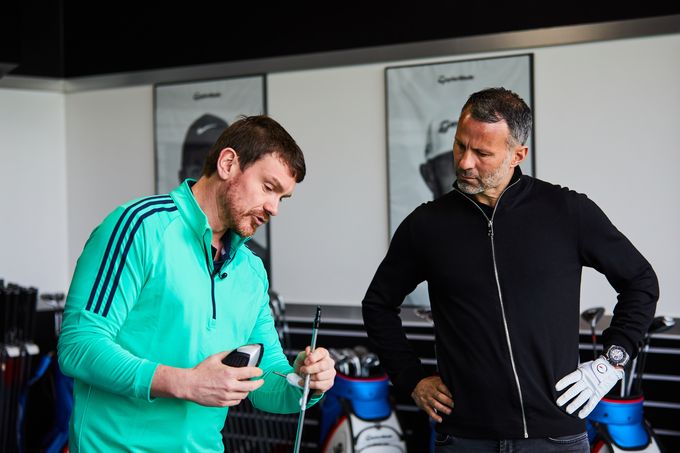 Paul started to dabble in golf from an early age 16-17 however his focus was understandably on football. "I probably played as a kid, but then when you're playing football you don't get much time to play. Then when you're retired you get a lot more time on your hands, so you start taking it a bit more seriously. In the last few years I've joined a club and really got into it."
Being competitive is something that comes naturally to athletes; we asked Paul whether the competitiveness from the football pitch is the same on the golf course. "Not really, I think when you play you set out and you're all friendly but that competitive edge comes into it and you want to win and it's not different whether you're playing Giggsy off 15, allegedly, or one of my mates off scratch. You want to win, of course you do, but the most important thing is that it's a social event as well."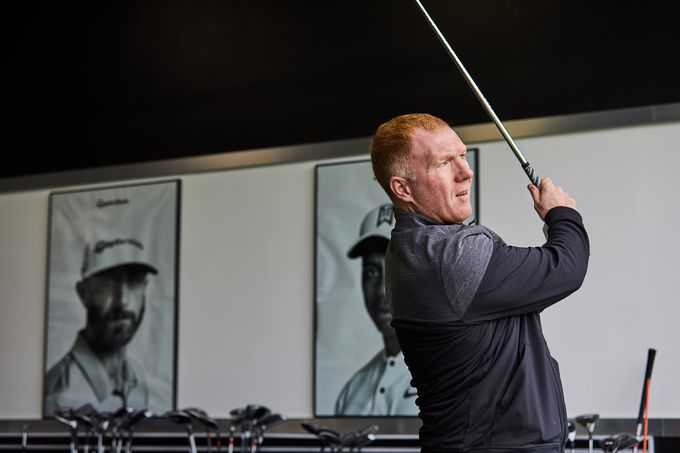 That social element was extremely apparent as Paul shared a comedic moment when he was out on the course: "I once played with someone, there was a pylon about 100 yards to the left and he hit his driver and it smacked the concrete bit of the pylon and flew back over our heads – I don't know how you do that!"
"I think everyone expects you to be alright, everyone expects you to be good and not feel the pressure. It's not realistic!"

– Ryan Giggs
Ryan made his Pro-Am debut last year at Wentworth during the BMW PGA. Considering he played at Old Trafford in front of thousands most weeks, when asked about his experience, it was somewhat of a surprise that he felt nervous. "We played (in the Pro-Am at Wentworth) and on that first tee, the first tee must have had about 2-3,000 people there. It doesn't even compare to 80-90,000. Doesn't even compare. You're comfortable playing on the football pitch, once you're on a golf course it's completely different, it's out your comfort zone."
Paul chips in: "I played at Wentworth because, Phil Neville I think it was, played there a couple of times and he said, 'oh you must come and play, it's not that bad, it's almost like a stadium'. He said you can't miss the fairway its quite easy! But as Giggsy said, there were 4-5,000 on the first tee and Rory McIlroy just smashed one down the middle – it gets to you!"
"I just want to hit that first ball and get away with it."

– Paul Scholes
The very fact that their estimates of how many people were around the tee speaks volumes about who embraced it more. As they both laugh about it, Ryan goes on. "Just before we were about to tee off, Scholesy said to me 'I'm never doing this again!' Before we'd even started playing!"
Having starred for Manchester United they are no strangers when it comes to large sporting occasions, however they both find golf more nerve-racking. Paul expands: "Whether you're at your own club playing a competition or in front of 5-10,000, I think because you're out of your comfort zone as Ryan said you have no idea what could happen, you could top it, cut it right or left and it's just a relief to hit the ball and get it somewhere down the fairway."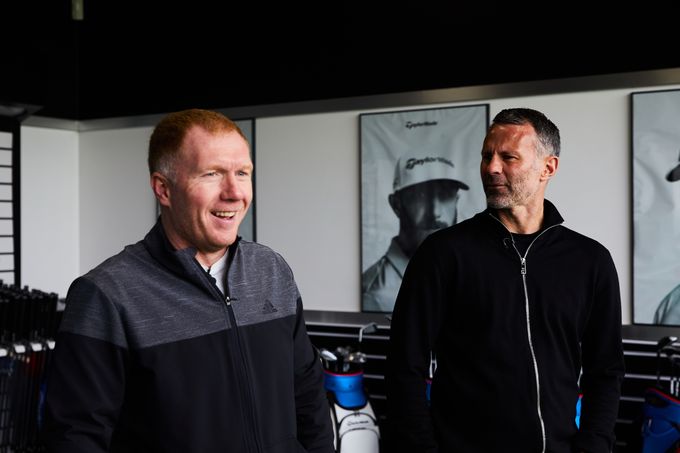 With pre-season tournaments around the world there are plenty of golf courses Ryan and Paul have had the opportunity to experience. Here in the UK they like to stay local. Ryan begins by calling out his home club. "I love playing Dunham Forest. During the winter it's really good as well so that's a huge bonus. When I was playing football I would never play in the winter if it was raining but now I'll play in the winter. That means I've got the bug I suppose." Moving north of the border, both said they like to play the Trump International Golf Links in Aberdeen. For Paul, it's a more local or sunny affair. "I only stay local really. I haven't played many courses out of my area but from the ones I have played down south, I think Wentworth and Sunningdale were at a different level to anywhere else I have played. There's a few places in Portugal too, Quinta do Lago is great and Monte Rei was out of this world. You've got to play there."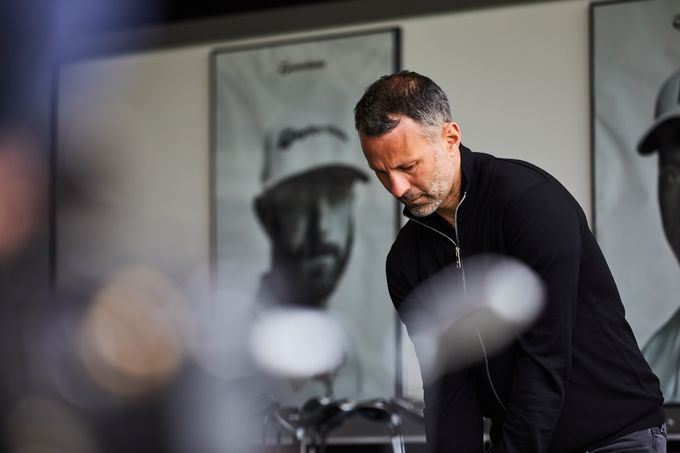 When asked about their dream 4-Ball they were in no doubt that Rory McIlroy would be their first pick. Paul quickly added world number 2, Dustin Johnson, before they both agreed on Tiger Woods. They both have many achievements on the football pitch but when it comes to achievements on the golf course Ryan was quick to add "beating Scholesy". That competitive spirit certainly never dies.
Check out the video from their fitting experience below.
Take a look at Ryan Giggs & Paul Scholes WITB:
Ryan Giggs
Paul Scholes